Increase the microbiological stability of products by removing or inactivating microorganisms that cause product spoilage. The Alfa Laval Steritherm VLA is an aseptic heat treatment system that sterilizes medium to high viscosity products. Based on a tubular heat exchanger, it ensures gentle product treatment and uniform heating and cooling. Versatile and robust, this aseptic sterilizer maximizes uptime and minimizes maintenance.
Skid-mounted tubular sterilizer for fibrous, particulate or viscous products
Greater production flexibility for, high-viscosity products and those containing fibres and particles
Versatile handling of various capacities and product formulations
Gentle treatment with uniform heating and cooling
Reliable, low-cost operation with long times due to higher heat transfer efficiency than tube-in-tube designs
Near maintenance-free operation due to no moving parts and low service requirements
Sterilize medium to high viscosity products with or without particles using the Alfa Laval Steritherm VLA. Versatile and robust, this aseptic tubular sterilizer has the Alfa Laval Viscoline annular heat exchanger at its core. It combines high temperature and holding time for effective sterilization to ensure product safety throughout the packaging process.
Delivery, installation, operation and maintenance are quick and easy. Special models are available for:
the removal of air from the product before treatment with integration of the Alfa Alrox deaeration module

indirect heat recovery to improve energy efficiency

operation under high-pressure conditions for high-viscosity products such as purées, jams, soups with particles, and tomato products
How does the Alfa Laval

Steritherm

VLA work?
The Steritherm VLA features the Viscoline VLA -4 annular tube heat exchanger, where the product flows through the annular space between two concentric pipes, which are surrounded by heating or cooling media on each side. The media flows in a direction counter-current to the product flow through similar annular gaps between the outer product pipe and the shell pipe, as well as between the inner product pipe and the pipe in the centre. The media and product pipes can also be corrugated to improve heat transfer.
Superheated water at 125 °C (257°F) pre-sterilizes the Steritherm VLA for 30 minutes before allowing any product to flow into the unit. The product enters the through the balance tank, and a pump transfers it through the first heater, where circulating hot water heats it to the appropriate sterilization temperature. The subsequent tubular holding cell provides the product residence time necessary for effective treatment.
The product is cooled in two stages – by tower water and then by chilled water – before it enters the aseptic filler tank. Should the heat treatment temperature drop below a pre-set value, a diversion function ensures no untreated product reaches the filler. The arrangement enables production to restart after attaining the correct temperature without requiring re-sterilisation with water for high-acid products with a pH of 4.5 or higher.
Other versions include indirect heat recovery, combination with an Alfa Laval Alrox deaerator module and, in case of very highly products, special high-pressure designs.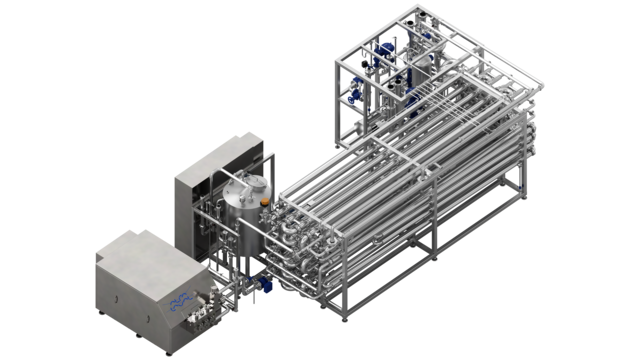 Aseptic sterilization
Aseptic sterilizer flow chart