High efficiency, superior mechanical resistance and a compact footprint make Alfa Laval's CB line of brazed plate heat exchangers ideal for demanding installations where space is limited. That's why they have become a common replacement for other types of heat exchangers in HVAC duties, refrigeration, process heating and cooling, oil cooling, domestic hot water, solar heating and much more.
More with CB
Wide variety of models and configurations make it possible to get the perfect fit for your application and duty
Alfa Laval's asymmetric FlexFlow plate design enables efficient performance with any type of refrigerant or in any liquid-to-liquid application
The patented IceSafe design protects CB units from crystal formation in refrigerant condenser duties where defrosting is required
For secondary heat exchangers used with gas boilers, Alfa Laval offers a range of extra-small asymmetric CB units
One compact design available in models for pressures ranging from 32 to 90 bar
Alfa Laval CB brazed heat exchangers offers several advantages over traditional heat exchangers used in industrial, HVAC and refrigeration installations. Increased thermal efficiency within a compact unit makes it possible to tackle large-capacity duties where installation space is limited. The gasket-free design also allows for reliable performance in high-pressure and high-temperature applications. With a huge range of available sizes, capacities, plate patterns and connections, along with single-, dual- and multi-pass configurations, the available duties are practically endless. Additionally, CB units are available with AHRI certification as well as major pressure vessel and marine industry approvals.
The easy way to reduce your energy costs and increase energy efficiency
A refund is just the start of your savings potential with the new exchange programme. Alfa Laval's innovative heat exchanger technology will significantly increase the energy efficiency of your processes. That means drastically lower power consumption and carbon emissions, along with a significant reduction in your long-term operating costs.
Minimum risk. Maximum thermal performance.
Introducing our new generation of double-wall brazed heat exchangers. Built with our three-barrier technique, the new Alfa Laval double-wall brazed plate heat exchangers give you the greatest protection against media mixing. Unlike traditional double-wall designs, there is limited loss to efficiency, ensuring your system achieves the highest possible thermal performance.
Reduce your charge. Increase your potential.
Discover hitherto untapped potential for greater sustainability in commercial refrigeration, ground source heat pumps and more. Alfa Laval CB24 is the market's first compact condenser fully optimized for propane (R290). With advanced engineering – including our patented asymmetrical channel plate design – it's possible to minimize the refrigerant charge while boosting thermal efficiency. You get a safe, reliable, sustainable solution that's fully compliant with the strictest regulations.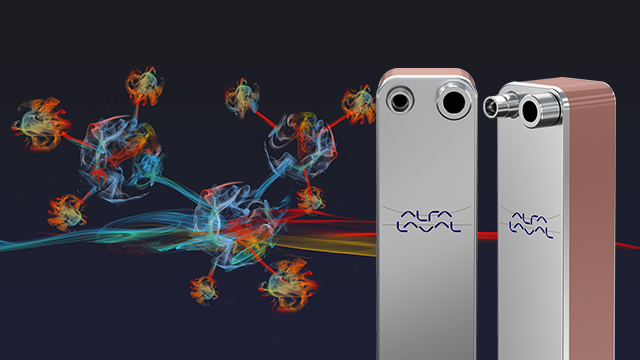 Modern thinking for more possibilities
Introducing the Alfa Laval CB210 brazed plate heat exchanger
CB210 combines all of Alfa Laval leading heat exchanger innovations into one
new, groundbreaking design. With higher capacity, improved efficiency and superior
thermal performance, you get more possibilities for today's heating and cooling duties.
Residential heating
CB units can be used in a variety of residential positions, including for domestic hot water and solar heating applications.
Heat pumps
Alfa Laval brazed heat exchangers can be used as condensers, economizers, evaporators and more.
Engine cooling
The efficient, robust and compact design of CB units is ideal for demanding engine duties.
---
AHRI for HVAC
Alfa Laval CB heat exchangers are available with certification according to the Liquid-to-Liquid Heat Exchanger programme of The Air-Conditioning, Heating, and Refrigeration Institute (AHRI). For heat exchangers used in HVAC applications, this programme offers independent, third-party verification of thermal performance according to manufacturers' published specifications.
How it works
Thin, corrugated stainless steel transfers heat, while copper brazing seals the media in the plate pack. The result is a high-efficiency heat exchanger that consists solely of surfaces that actively contribute to heat transfer. Contact points between the plates are also brazed, which improves resistance to pressure and temperature fatigue.
The arrangement of the channels formed between the plates ensures that media flow through alternate channels, generally in a countercurrent pattern, which further optimizes the efficiency of the heat transfer. A co-current configuration is also available.
View the animation to learn more.
---
Unique features to boost your performance
With more than 80 years of experience in heat transfer innovation, Alfa Laval knows what it takes to deliver high-performance solutions for any application. Our experts continuously develop new innovations that give our CB line of brazed plate heat exchangers more reliable and efficient performance.
PressureSecure
Unparalleled strength for demanding duties
Our innovative plate designs support the widest range of high-temperature and high-pressure applications. Units can run using thinner plates and fewer plates, which translates to less raw material, lower energy consumption, reduced refrigerant charge and a longer equipment lifecycle.
REFuture
A future-proof investment for tomorrow's refrigerants
As an innovative driver in the development of solutions for natural refrigerants, Alfa Laval brings years of experience working with products that enable the use of new-generation and low-GWP refrigerants to help you meet sustainability goals and any legislative requirements.
FlexFlow™
Superior thermal performance
Alfa Laval's patented asymmetrical plate design is one of many unique innovations that gives you improved thermal efficiency thanks to optimized pressure drop and increased turbulence. In addition to cutting energy consumption, that means reducing refrigerant volumes and raw materials.
IceSafe
Controlled, non-destructive freezing
For applications that require it, we can supply plate heat exchangers designed to allow ice crystals to form under certain operating conditions, but displaced from sensitive areas. This ensures both reliable performance and a long product life.
---
Finding your Alfa Laval CB heat exchanger
The Alfa Laval CB line of brazed plate heat exchangers are available in five models, corresponding to different maximum design pressures and optimized for use with different refrigerants:
CB units – 32 bar
CBH units – 45 bar
CBK units – 49 bar
CBP units – 60 bar
CBXP units – 90 bar
To make sure you get the best model for your duty, Alfa Laval offers guidance and useful tools. Begin by exploring our product guide, an interactive resource designed to help you quickly find your ideal solution.
---
Contact us
Do you have questions about our portfolio of brazed and fusion bonded plate heat exchangers? We can work with you to find the optimal model to fit your specific needs.