High speed low acid aseptic filler
Quickly transfer high- and low-acid food products into sterile bag-in-box packaging with the Alfa Laval high-speed low-acid aseptic filler. This aseptic bag-in-box filling machine delivers exceptional hygiene standards. Fill ready-to-use fruit juices, plant-based drinks, purées, beverages, dairy products, sauces, condiments, syrups and post-mixed beverages into aseptic packaging–faster and more accurately than comparable filling machines.
Decrease your production loss time and maximize uptime with our automatic bag-in-box fillers
Fastest throughput and unparalleled efficiency due to high-speed, high-torque servo motor technology
Higher productivity due to faster transitions between production runs with automated cleaning and sterilization cycles
Minimal supervision and maintenance required thanks to user-friendly automatic operation and cutting-edge SCADA system
Exceptional levels of hygiene, safety and compliance with FDA guidelines
Superior expertise from a global solutions provider with local service and support
Maximize production uptime with the Alfa Laval high-speed low-acid aseptic filler. Spend less time switching between production phases and more time packaging ready-to-use food products.
Reduce downtime between sterilization in place (SIP), production and cleaning in place (CIP). Plus, the aseptic filling system adapts to different bag sizes, cap types and packaging designs.
An integrated brushless servo motor ensures control and high-speed transfer of low-acid food products, handling 3- to 25- litre bags and closures at up to 12 bags per minute. Higher filling rates translate into higher yields of finished, ready-to-distribute food products.
FDA-compliant, this aseptic bag-in-box filling line is available as a stand-alone module or integrated into various Alfa Laval food processing lines.
How does the Alfa Laval high-speed, low-acid aseptic filler work?
Sterilization
All product-contact surfaces automatically undergo cleaning-in-place (CIP) and in-line sterilization-in-place (SIP) before production begins. Should an alarm trigger during sterilization, the timer automatically counts down to zero and only restarts upon resolution of the condition causing the alarm. Non-food contact surfaces, such as the filling head and tunnel, are sterilized using steam and vapourized hydrogen peroxide.
Like non-product-food contact surfaces, flat, rigid caps with high or low fitments, or other dispensing caps from major suppliers, undergo sterilization in the tunnel with dosed jet streams of vapourized hydrogen peroxide. Spouts are then introduced inside the aseptic head, where a positive sterile airflow prevents the entry of airborne contaminants. Both temperature and pressure are positive.
Transfer
An operator introduces the first sterilized bag treated with gamma irradiation into the bag feeder. The feeder automatically moves the bags through the sterilization tunnel and prepares them for the filling head. A cap is re-inserted in the bag spout, and an automatic cutter separates the filled bag from the web. A motorized roller conveyor moves the bags from the aseptic filling line to a loading area.
Filling
The interior of the chamber is constantly monitored (critical factor). The brushless electric servomotor technology enables control and adjustment of the aseptic valve's movements, speed and acceleration. Pincers remove the caps, and an air seal system closes the spout, preventing the entry of contaminants into the bags.
A motorized roller conveyor moves the filled bags out of the machine. A control panel with programmable logic controller (PLC) regulates all phases of the aseptic filling line and the conditions within the aseptic filling system.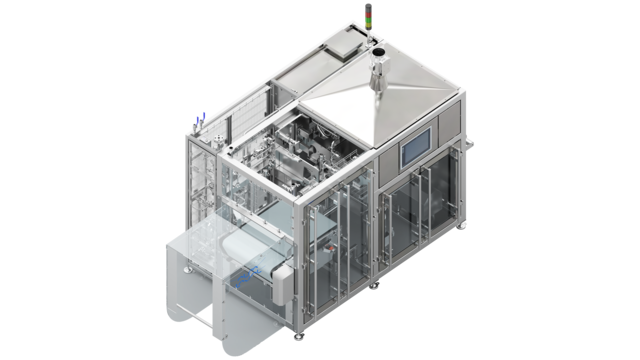 Low-acid aseptic filler working principle